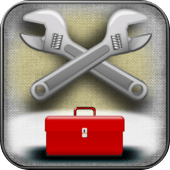 The Torque+ app is designed to supply information about the torque using Force and Distance, or Length, in put as Newton-meters, Foot-pounds, Inches, Feet, Yards, or Meters.
Also, there are converters for the motion of the wheel and tire on a vehicle, based on the vehicle's speed in MPH or KPH, rim diameter, and tire body size. The calculator's results are the RPM (revolutions per minute) of the tire, the RPS (revolutions per second) of the tire, and the distance traveled per second in meters or feet.
Calculators
– Torque (N-m)
– Torque (Lbs-Ft & N-m)
– Torque Converter between Lbs-Ft & N-m
Converters
– Gauge and Size
– Tire Diameter
– Wheel and Motion
Area Converters
• Square Inches and Shorter Conversion
• Square Feet & Yards & Meters Conversion
Distance Converters
• Inches & Centimeters & Millimeters Conversion
• Feet & Yards & Meters Conversion
• Miles & Kilometers Conversion
Volume Converters
• US/Imperial to Metric Units Conversion
• Metric to US/Imperial Units Conversion
• Inches & Centimeters Volume Conversion
• Feet, Yards, & Meters Volume Conversion
This app features:
• Send your calculations or conversions by email
• Universal App (iPhone, iPod Touch, and iPad)
• iOS 7 is supported
• iPhone 5's 4 inch screen and the original 3.5 inch screen are supported
• Retina Display graphics
• Fast app switching
• Automatically Saves Your Inputs
No network connectivity required.
Note: All information in this app is for informational purposes only.

This app is available for a discount to Apple-approved Education institutions in the United States. Please contact Apple for further details.