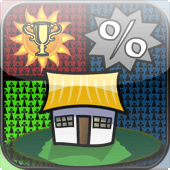 * Featured by Apple under 'New and Noteworthy' in the United States for iPhone and iPad > Finance
The 23 in 1 Financial Calculator app is a straight-forward, no-nonsense app for solving financial formulas.
Mortgage Calculators
* Mortgage Loan Payment
* Cost Per Unit (Foot/Meter)
Financial Solvers
– Bill discounting
– Discounted cash flow (DCF)
– Effective rate discount
– Future Value – Investment
– Future Value of annuity (investment) growing
– Interest – Investment
– Interest on consumer goods
– Leasing interest rate
– Leasing prepayment
– Loan Interest
– Loan prepayment
– Loan prepayment with extra monthly payment
– Monthly investments
– Monthly leasing payments
– Monthly payments
– Mortgage monthly payments
– Number of payments
– Period – Investment
– Present Value – Investment
– Present Value of annuity (investment) growing
– Price discount
– Simple discount
Miscellaneous Calculators
* Area Converter
* Distance Converter
* Imperial & US Units Converter
* Metric Units Converter
* Miles & Kilometers Units Converter
* Volume Converter
All results can also be emailed through the iphone's email application using an automatically filled-in email template provided with the app.
All calculations are persistent state and are automatically saved when closing the app.
This is a Universal App which will run on an iPhone, iPod Touch, and an iPad.

This app is available for a discount to Apple-approved Education institutions through the Apple's Volume Purchase Program.