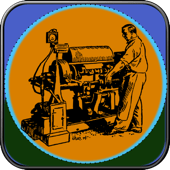 The Milling and Machining app is six, straight-forward calculators for milling formulas used during metalworking and woodworking.
Calculators
1) Spindle Speed
2) Cutting Speed
3) Chip Load per Tooth
4) Feed per Revolution
5) Feed Rate
6) Material Removal Rate
Tables
1) Drill Size Table
2) Metric Tap Drill Table
3) Imperial Tap Drill Table
4) Pipe Threads Table
As well as the following conversion utilities,
Area Converters
• Square Inches and Shorter Conversion
• Square Feet & Yards & Meters Conversion
Distance Converters
• Inches & Centimeters & Millimeters Conversion
• Feet & Yards & Meters Conversion
• Miles & Kilometers Conversion
Volume Converters
• US/Imperial to Metric Units Conversion
• Metric to US/Imperial Units Conversion
• Inches & Centimeters Volume Conversion
• Feet, Yards, & Meters Volume Conversion
All results can also be emailed through the iphone's email application using an automatically filled-in email template provided with the app.
This app features:
• Send your calculations or conversions by email
• Universal App (iPhone, iPod Touch, and iPad)
• Retina Display graphics
• Fast app switching
• Automatically Saves Your Inputs
• Latest version of iOS is supported
• iPhone 6, 6+, 5 screens and the original 3.5 inch screen are supported
No network connectivity required.

This app is available for a discount to Apple-approved Education institutions through the Apple's Volume Purchase Program.