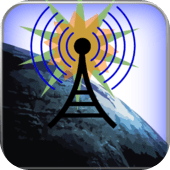 The UHF/VHF Antenna Line of Sight app is a useful calculator to get the total line of sight distance for the Radio Horizon using the height of two antennas.
Also, the app can calculate EIRP using watts, dBw, and dBi.
Calculators
• Antenna Line of Sight
• EIRP
• Pure ERP
Area Converters
• Square Inches and Shorter Conversion
• Square Feet & Yards & Meters Conversion
Distance Converters
• Inches & Centimeters & Millimeters Conversion
• Feet & Yards & Meters Conversion
• Nautical Miles, Statue Miles and Kilometers Conversion
Volume Converters
• US/Imperial to Metric Units Conversion
• Metric to US/Imperial Units Conversion
• Inches & Centimeters Volume Conversion
• Feet, Yards, & Meters Volume Conversion
This app features:
• Send your calculations or conversions by email
• Universal App (iPhone, iPod Touch, and iPad)
• iOS 6 & 7 are supported
• iPhone 5's 4 inch screen and the original 3.5 inch screen are supported
• Retina Display graphics
• Fast app switching
• Automatically Saves Your Inputs
No network connectivity required.