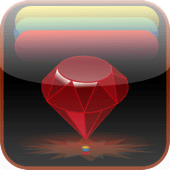 * Featured by Apple under 'New and Noteworthy' in iPad > Productivity
The Carats Calculator app is designed to calculate the carats of a gemstone using Eight-Six (86) different gemstone types and twelve (12) facet styles. This is done by estimating the specific gravity of the specific gemstone of the type selected as well as the size and facet style.
Carats
* Carats Weight (Grams / Carats / Points / Milligrams)
* Carats Size (Based on Girdle Length, Girdle Width, Depth, Stone type and Facet Style)
Gauge Thickness Converter
* Area Converter (Square Inches to/from Square Centimeters)
* Distance Converter (Inches to/from Centimeters)
Facet Styles (Listed in alphabetical order) :: Cabochon Cut, Emerald Cut Faceted, Marquise Cut Faceted, Oval Faceted, Pear Cut Faceted, Rectangular Cushions, Rectangular Faceted, Rectangular Step Cut, Round Faceted, Square Cushions, Square Cut Faceted, and Square Step Cut.
Gemstone Types (Listed in alphabetical order) :: Achorite, Agate, Alexandrite, Almandine, Almandine Spinel, Almandine-Spessartine, Amazonite, Amethyst, Andradite, Aquamarine, Balas Ruby, Black Opal, Bloodstone, Brazilian Emerald, Cairngorm, Carnelian, Cat's Eye, Chalcedony, Chlorspinel, Chrome Pyrope, Chrysoberyl, Chrysoprase, Citrine, Color-Change Garnet, Demantoid, Diamond, Dravite, Emerald, Feldspar, Fire Opal, Garnet, Ghanospinel, Goshenite, Green Quartz, Grossular, Heliodore, Heliotrope, Hessonite, Hyacinth, Indicolite, Jade, Jadeite, Jargon, Jasper, Labradorite, Lapis Lazuli, Malaia, Matura Diamond, Moonstone, Morganite, Morion, Nephrite, Onyx, Opal, Orthoclase, Peridot, Peristerite, Praziolite, Pyrope, Pyrope-Almandine, Pyrope-Spessartine, Quartz, Red Beryl, Rhodolite, Rock Crystal, Rose Quartz, Rubellite, Rubicelle, Ruby, Sapphire, Sapphire Spinel, Siberite, Smoky Quartz, Spessartine, Spinel, Sunstone, Topaz, Topazolite, Tourmaline, Tsavorite, Turquoise, Uvarovite, Verdilite, Water Opal, White Opal, and Zircon
All results can also be emailed through the iphone's email application using an automatically filled-in email template provided with the app.
All calculations are persistent state and are automatically saved when closing the app.
This is a Universal App which will run on an iPhone, iPod Touch, and an iPad.
Note: All information in this app is for informational purposes only.