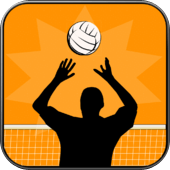 The Volleyball Stats+ is useful app for saving and logging statistics per player and game events in volleyball.
Collect and Calculate the following stats: Team Name, Opponent Name, Player Name, Win/Lose/Tie, Date (D-M-Y), Position, Sets Played, Kills, Errors, Total Attempts, Assists, Service Aces, Service Errors, Service Attempts, Receiving Errors, Defensive Digs, Block Solos, Block Assists, Block Errors, Ball Handling Error, Kills per Set, Assists per Set, Service Aces per Set, Digs per Set, Blocks per Set, Hitting Percentage, Points, Attack Percentage, and Notes.
All of the above information is stored in the App's Database for later recall. Additionally the player's name, game name, and individual game notes may be stored, retrieved, and sent via email.
This app features:
• Send your calculations or conversions by email
• Universal App (iPhone, iPod Touch, and iPad)
• iOS 5 & 6 are supported
• iPhone 5's 4 inch screen and the original 3.5 inch screen are supported
• Retina Display graphics
• Fast app switching
• Automatically Saves Your Inputs
No network connectivity required.