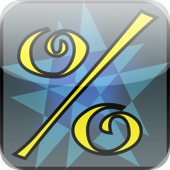 Universal Application for iPad, iPhone and iPod touch.
* Featured by Apple in 'What's Hot' in the United States, United Kingdom, and Italia under iPad > Weather
* Featured by Apple in 'What's Hot' in the Italia and United Kingdom under iPhone > Weather
Now features Fetching current weather conditions over the network.
Relative humidity may be defined as the ratio of the water vapor density (mass per unit volume) to the saturation water vapor density, and in the case of this iPhone App it is expressed as a percentage. The air temperature and dew point can be entered as Fahrenheit or Celsius.
The results can also be emailed through the iPhone's email application. The application is completely compatible with the iPhone OS 3 and 4, as well as the iPod Touch and iPad.

This app is available for a discount to Apple-approved Education institutions in the United States. Please contact Apple for further details.